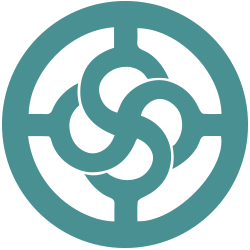 Partnership with
NAWBO Kentucky Chapter
As an organization, NAWBO Kentucky partners with other organizations to provide opportunities for advancement. We are grateful to our current partners, and are thrilled to continue working with these partners, in addition to many more in and around the great state of Kentucky.
See below for more information on our partners, and how to become one yourself! Take your business to the next level by partnering with NAWBO Kentucky.
Partnership Opportunities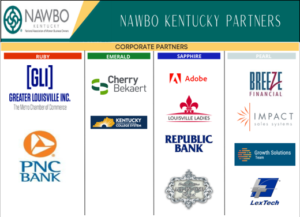 NAWBO KY Partnership Information 2023
Are you interested in becoming a NAWBO Kentucky Corporate Partner?
A corporate partnership with NAWBO Kentucky affords exposure and access to the ever-growing and dynamic area of women business owners. Women business owners are the fastest-growing segment of the business community, with over 12.3 million woman-owned businesses in the US alone. Partnerships are available on a variety of levels and can be customized to maximize your reach into the community. We also offer direct event sponsorships.
For more information about NAWBO Partnership opportunities download brochure, NAWBO KY Partnership Information 2023
"Joining Nawbo has catapulted my career in ways that I could not have imagined and has accelerated my growth as a leader. I have made connections with some of the most powerful and influential women in our community that will last a lifetime."
BENEFITS/DESCRIPTION
DIAMOND
RUBY
EMERALD
SAPPHIRE
PEARL
 
Industry Exclusive
Limited to 2 Per Industry
No Industry Limitation
No Industry Limitation
No Industry Limitation
Total Investment
$10,000
$5,000
$2,500
$1,000
$500
Event Partnership Benefits
Business recognition as supporting diversity for women business
owners
✓
✓
✓
✓
✓
Logo on e-blasts
✓
✓
✓
✓
✓
Opportunity to send discounted services or products for NAWBO
Kentucky members only
✓
✓
✓
✓
✓
Opportunity to participate in the NAWBO Kentucky Advocacy Days in
Frankfort KY.
✓
✓
✓
✓
✓
Number of named representatives
10
5
2
1
1
Complimentary seats at annual EPIC event
10
5
2
1
 
Complimentary seats at 1 special event
10
5
2
1
 
Highlight company's programs and events focused on women business
ownership via email and online calendar
✓
✓
✓
 
 
Complimentary seats at virtual monthly Leadership Series for named
representatives - membership pricing for in person
✓
✓
✓
 
 
Champion to serve as advisor on the NAWBO Kentucky Advisory
Committee
✓
✓
✓
 
 
EPIC sponsorship level. Does not include presenting
an award. Marketing only.
Top Level Sponsorship
2nd Level Sponsorship
 
 
 
Promotion of company procurement initiatives and events targeted to
women and minorities
✓
✓
 
 
 
Opportunity to introduce your company at 1 NAWBO Kentucky Leadership
Series
✓
✓
 
 
 
Opportunity to "host" a matchmaker event for NAWBO Chapter Members
and your company employees
✓
✓
 
 
 
Opportunity to provide swag bag items for EPIC event at no cost
✓
✓
 
 
 
Opportunity to provide up to 3 additional links for the website or
social media promoting Women Business Ownership programs and Education
✓
 
 
 
 
Opportunity to purchase tickets to NAWBO Kentucky events at NAWBO
Member price
✓
 
 
 
 
Vendor booth at 1 special event
✓
 
 
 
 
Opportunity to host/develop a board approved unique event at your
location
✓
 
 
 
 
Top Sponsorship level for an additional special event
✓
 
 
 
 
Opportunity to host as presenter to leadership luncheon or other
event per topic approval of board
✓
 
 
 
 
Opportunity to "host" a training event for NAWBO Chapter Members and
their employees upon approval from board
✓
 
 
 
 
First right of sponsorship to all signature events
✓
 
 
 
 
Introduce speaker at 1 Leadership Series event
✓
 
 
 
 
If you are interested in becoming a corporate partner, reach out to NAWBO Kentucky today!