Welcome to
NAWBO Kentucky
If you've been looking for a place that supports and elevates women business owners to the next level, the National Association of Women Business Owners, Kentucky Chapter, is for you. NAWBO is the essential community for all women business owners with a diverse group of members supporting, encouraging, teaching, and sharing with each other.
NAWBO is a network for women in business that supports, provides resources, aids opportunities and forms partnerships among the woman-owned business community in Kentucky and beyond. While NAWBO is a world-wide organization, NAWBO Kentucky serves Kentucky, the Southern Indiana and Cincinnati, Ohio areas.
NAWBO is a national organization made up of powerful and determined women business owners from all over the country. Click below to become one of them!
NAWBO is a national organization on a mission to propel women entrepreneurs into economic, social, and political spheres of power by strengthening communities, promoting development, creating changes in business culture, building alliance, transforming policy and more.
Want to get to know other professional businesswomen, network, and make lifelong friends? Join us at any of our events, ranging from a monthly Leadership Series to The Epic Awards.
NAWBO Kentucky has worked with amazing partners, and your business could be next. Click below to view our current partners and for information on how to become one yourself!
After 30 years in the Bluegrass state, NAWBO Kentucky is still just getting started. Learn more about our history and join us to make more history moving forward.
Be sure to like and follow our Facebook page for daily updates, event posts, member spotlights and more.
In principle and in practice, NAWBO values and seeks a diverse and inclusive membership. NAWBO seeks full participation in the organization by all business owners who support our mission to empower women entrepreneurs, regardless of race, religion, age, sexual orientation, national origin, or disability. NAWBO's goal is to effectively represent the full diversity of the women business owner community and to expand access to leadership opportunities across the full spectrum of our membership. 
We are Stronger Together
Are you looking to start a business, further an existing business, or meet amazing women in the Kentucky area with the same goals? Look no further – NAWBO Kentucky is the place for you.
Whats Going On?
Upcoming Events and Programs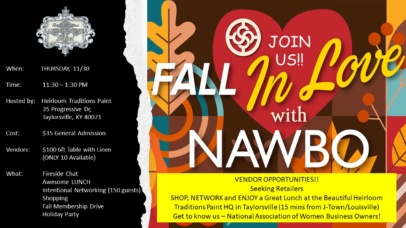 When:      THURSDAY, 11/30 Time:      11:30 – 1:30 PM Hosted by:    Heirloom Traditions Paint 35 Progressive Dr, Taylorsville, KY 40071 Cost:            $35 General Admission…