FOR IMMEDIATE RELEASE
Louisville, KY, July 31, 2023 – The Kentucky Chapter of the National Association of Women Business Owners (NAWBO) proudly announces the esteemed professionals selected to form the Board of Directors for the 2023-2024 term. Representing a versatile mix of business expertise and entrepreneurial spirit, the new board stands poised to drive growth and support for women entrepreneurs across the state.
The leadership for the 2023-2024 term includes:
Vanessa Pennoyer, President of Go 2 Girl, LLC, appointed as President of NAWBO Kentucky
Brittnie Eiden, President of Eiden Tax and Accounting, appointed as Treasurer
Brittany Jackson from Allstate Insurance Agency, appointed as Secretary
Joanna Sherrow, Owner and Creative Director of SavvyChic Design, LLC, appointed as Marketing Chair
Jennifer Longworth, President of Bourbon Barrel Podcasting, appointed as Lexington Market Engagement Chair
Karen Lovett, Owner of Aspire Coaching, appointed as Louisville Market Engagement Chair
Jennifer Sheffel from Summit ActionCOACH, appointed as Corporate Partnership Relations Chair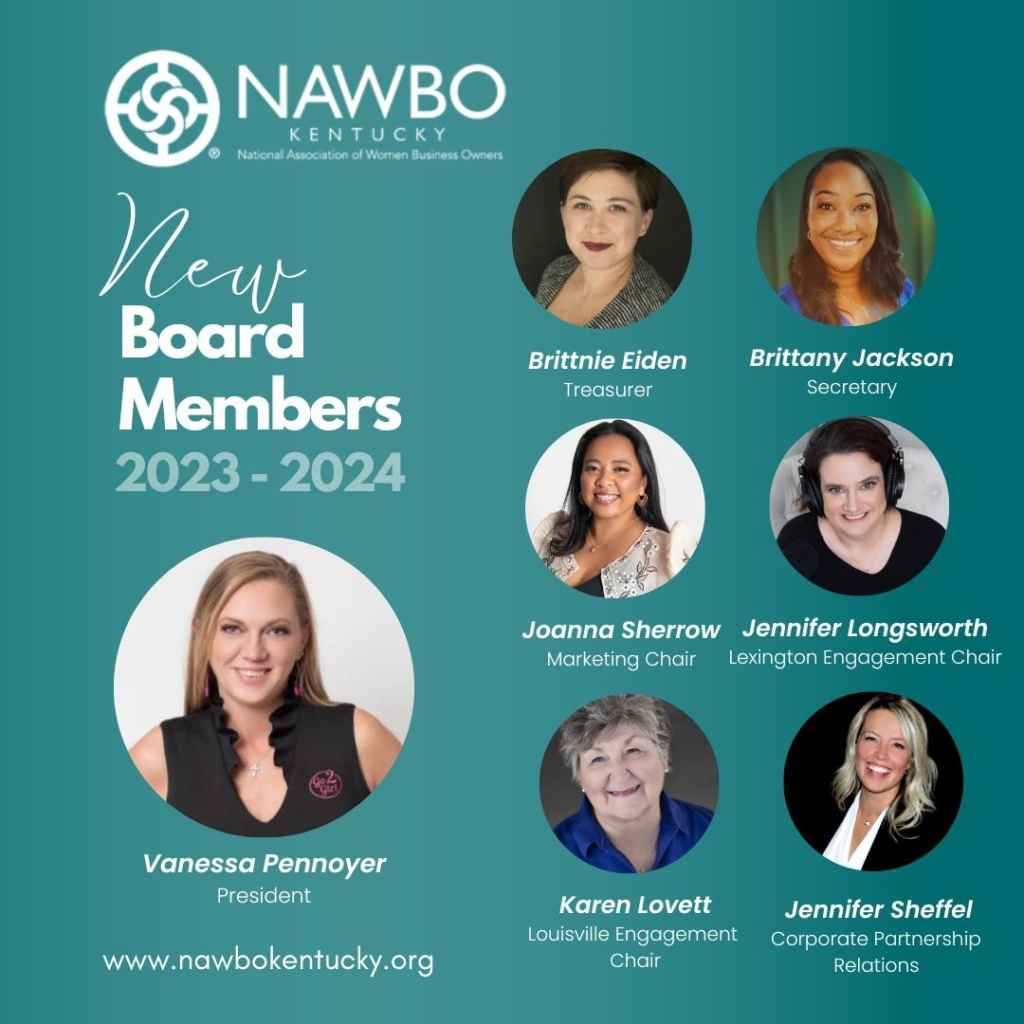 Additional members who have joined the Board include:
Basha Roberts, Founder of LexTech, LLC, Immediate Past President
Izzy Nalley, President of Izzy Nalley Consulting, President-Elect
Patty Breeze, President of Breeze Financial LLC, appointed as Advocacy Chair
Crystal Shepard, Partner at McVay Martin Shepard, Governance Chair
Krystalore Crews, Owner of Crews Beyond Limits Consulting, LLC, appointed as DEI Advisor
Barbara Louise Kelly, CMO & Owner of Growth Solutions Team & Paradigm Services Inc. as Membership Chair
Ashlee Mello, Owner of Day Twosday Production, appointed as Northern Kentucky Market Engagement Chair
The board will also be guided by the experienced and strategic insights of Advisors Margaret Jolly and Henrietta Pepper. Their expert advice and support will be invaluable in steering the association's initiatives.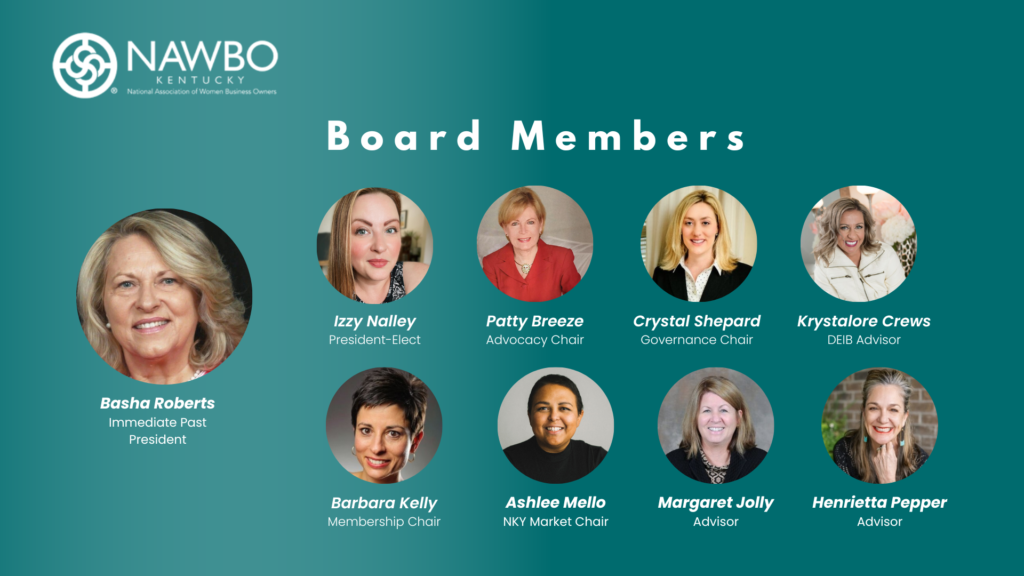 Each new board member was meticulously chosen for their unique leadership qualities, industry experience, and a shared commitment to propelling women in business to new heights. These passionate individuals will collaborate to foster an environment encouraging growth, providing resources, and promoting women's entrepreneurial achievements in Kentucky.

NAWBO Kentucky would like to thank the outgoing Board of Directors for their unwavering dedication and substantial contribution during their tenure.
About NAWBO:

Established in 1975, The National Association of Women Business Owners (NAWBO) represents and advocates for over 12 million women-owned businesses across the United States. The Kentucky chapter of NAWBO, a thriving part of this vital network, is dedicated to fortifying women-led companies within the state using advocacy, education, and sustained support.
For more information about NAWBO Kentucky and the newly appointed board, please visit www.nawbokentucky.org.
Press Contact:

Joanna Sherrow
Marketing Chair, NAWBO Kentucky
Email: [email protected]
Website: www.nawbokentucky.org